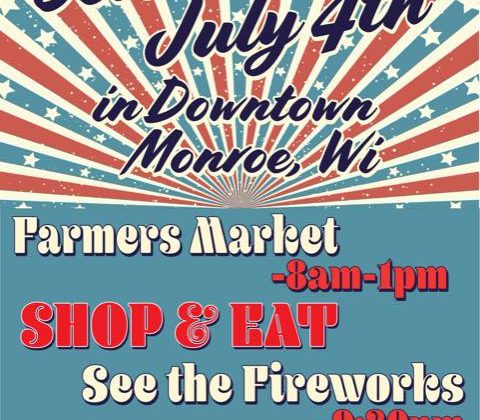 With the 4th of July being a Saturday, and the "other typical July 4th activities," such as the City Band Concert, carnival, ballgames, and concessions being canceled this year, folks are going to be out looking for things to do. The following is a list of food related events, Monroe Restaurant Specials, and Restaurant closures that we know about. (We will update this list as we hear about additions.)
Monroe 4th of July Food Events:
Main Street Monroe Farmers Market: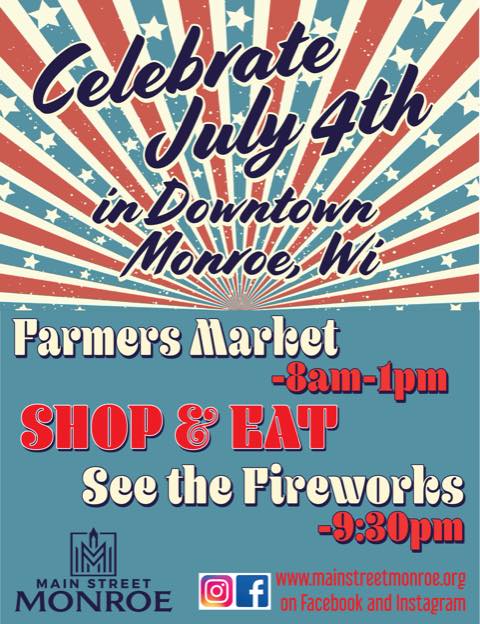 Main Street Monroe Farmers Market – The Farmer's Market will be held during its normal Saturday hours, 8am – 1pm on the Historic Square.
Sponsored by Monroe Clinic, a member of SSM Health, vendors sell the freshest Wisconsin/Illinois-grown produce, plants, baked goods, canned items, honey, and craft items. Located in the Historic Main Street Monroe District, this street-lined farmers market provides plenty of room to social distance and is producer only; i.e. a market at which vendors are only permitted to sell items which they have themselves produced or value-added items.
Tree-Ripe Fruit Co. Georgia Peach Delivery:
Restaurants that are advertising as Open on July 4th:
Blue Ox– "We will be open our regular hours on the 4th. We have prime rib and many other choices.". Check out their specials on their facebook page..
Bullquarian Brewhouse, LLC – Open 12-9pm.
Horseshoe Saloon – Kitchen is still closed due to remodeling, they are still serving their famous Homemade pizzas.
Jim's Backyard BBQ – Open 11am – 2pm today.
North Side Pub & Grill – Broasted Chicken starts at 4pm. July burger of the month is the Patriot.
Swirl Station – Celebrate with Firecracker Ice Cream…Strawberry flavored ice cream with Pop Rock Candy. May your day be a blast with your favorite ice cream!
Restaurants that will be Closed on July 4th:
Amy's Corner Cafe – "We are closed today, but we will be open bright and early Sunday morning!"
Baumgartner's Cheese Store & Tavern – "We will be closed for the day to celebrate with our families, and we will reopen tomorrow at 8am."
Bullets -Bonnies-Doyles Irish Pub – "We will be Closed today to celebrate with our families. Reopen tomorrow at 4!"
Friendly Inn Bar & Grill – Closed July 4th to enjoy the holiday.
Luna Maya Mexican Restaurant – "We will be closing for the 4th of July tomorrow!!"
Minhas Kitchen – "The Kitchen and the Winery will be closed on the 4th".
Perks Coffee Cafe – Normally closed on the weekend.
The Garden Deli, Inc. – "We're home celebrating with our families today. See you tomorrow!"
This list is current based on information that was gathered by eatMonroe. Information on this page is subject to change as businesses may alter their opening plans and specials for various reasons. If eatMonroe is made aware of a change, this post will be updated.