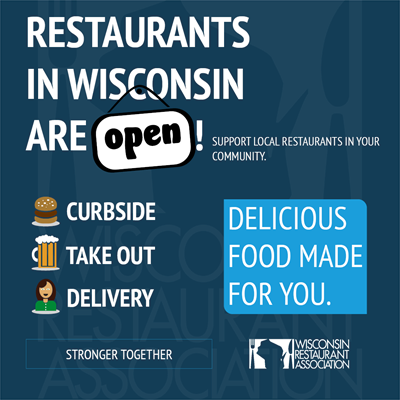 Countless restaurants in Wisconsin are adapting to the current COVID-19 crisis by offering delivery, drive-through, takeout and curbside services to ensure that people can still get great tasting food if they need or want it. Restaurants that already had these options in place are ramping up those services while other restaurants are adding delivery, takeout or curbside services to avoid closing entirely.
The Wisconsin Restaurant Association created an online listing of over 1,000 restaurants and other foodservice businesses who are currently offering delivery, takeout, curbside or delivery services to their customers.  It also includes a listing of restaurants that are temporarily closed.  Visit wirestaurant.org/wisconsineats for the online listing.
Restaurants around the state can ask to be added to the listing by completing an online form at wirestaurant.org.
"We've heard from so many people that want to support their favorite local restaurants and help them survive these difficult times," said Kristine Hillmer, President & CEO of the Wisconsin Restaurant Association, noting that the economic impact of COVID-19 to restaurants and their employees is devastating. "The best way to support restaurants is to order takeout or delivery as much as you can – and enjoy some great food while you're at it. We also encourage buying gift cards to use when dining rooms open up again" Hillmer advises that you check with the restaurant directly either by phone or check their website to verify their current menu offerings, hours and the best method for getting your food to be sure you have the most up to date information.
Since the beginning of the COVID-19 crisis Wisconsin Restaurant Association staff have been working to provide resources, information, support and advocacy for restaurants statewide.  This includes daily email to restaurant operators around the state, a team of experts answering incoming phone calls as well as a website clearinghouse of useful resources, information and advice for both restaurant operators and employees.  There's a COVID-19 Toolkit for Restaurants, a How to Get Started with Delivery Guide, Suggestions of 10 Ways to Support Your Employees and a Restaurant Employee Resource website that includes links to temporary jobs, unemployment information and more.
The association also has been in constant contact with the governor's office, many state agencies and other governmental entities to advocate on behalf of the restaurant industry during this unprecedented situation.
The Wisconsin Restaurant Association is one of the largest trade associations in the state with over 7,000 member locations throughout Wisconsin. The mission of the Wisconsin Restaurant Association is dedicated to the success of the Foodservice and Hospitality Industry. The Association advocates on behalf of the restaurant industry, provides a voice for the restaurant industry to consumers and the media and provides access to information and services to help members better run their businesses. WRA represents the entire foodservice industry which includes over 16,000 licensed food service establishments.
WRA membership includes a wide range of foodservice businesses representing virtually every size and style of restaurant in the state. Members include fine dining establishments, mom-and-pop supper clubs, small cafes, quick service restaurants, corporate chain restaurants, institutional food service operations, catering businesses and hotel and motel foodservice among others.