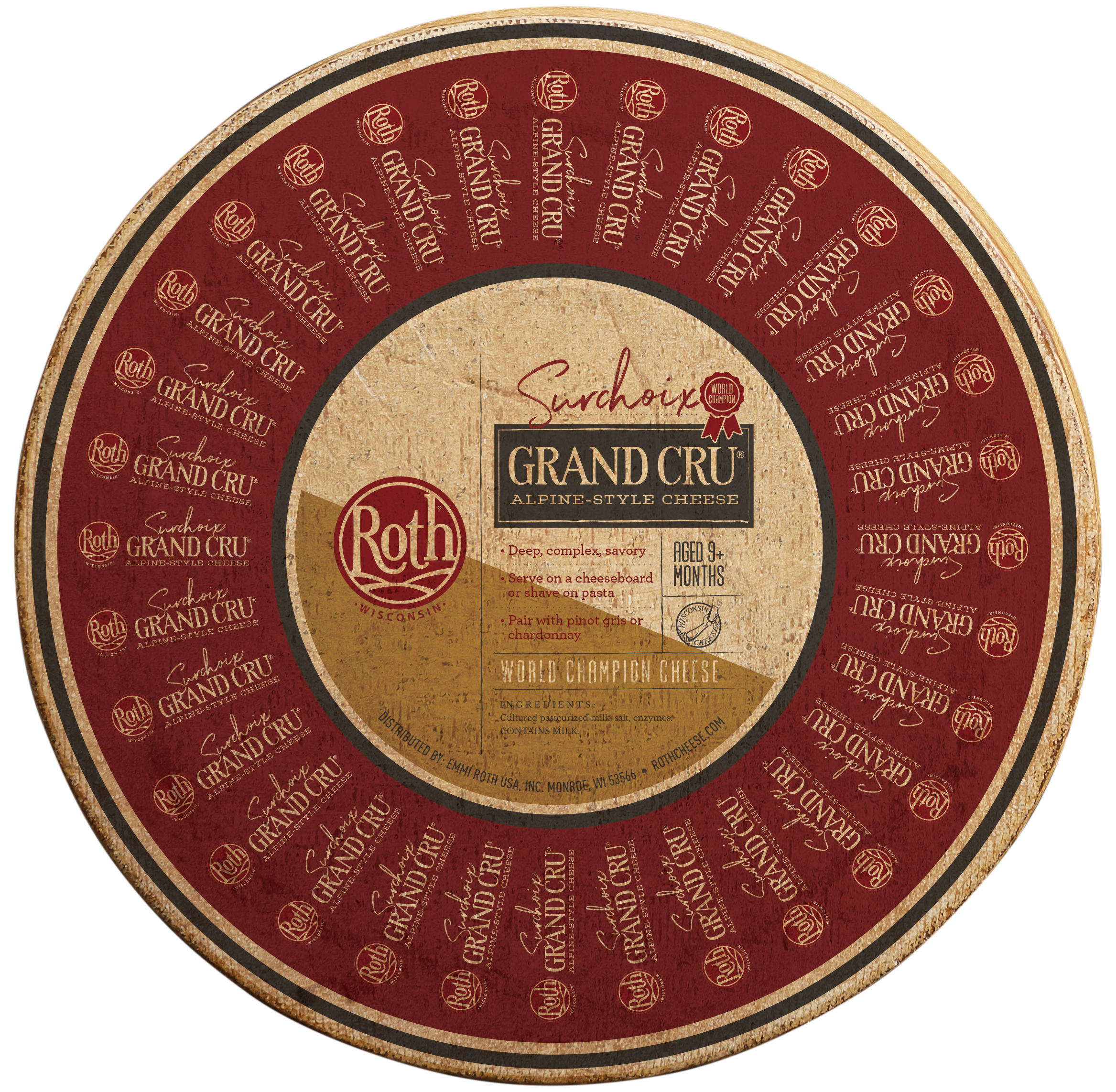 Wisconsin, October 23, 2019 – Emmi Roth received twelve awards for their Wisconsin-made and Swiss-imported cheeses this weekend at the 2019 World Cheese Awards in Bergamo, Italy, including two Super Gold awards for their signature Alpine-style cheeses.
Super Gold medals went to Wisconsin-made Roth® Grand Cru® Surchoix and Emmi Le Gruyère® AOP, hand-crafted in Switzerland.
Grand Cru® Surchoix, made under the company's Wisconsin-made Roth® brand of cheeses, is part of their flagship line of washed-rind Alpine-style cheeses. Grand Cru Surchoix is aged a minimum of 9 months in their cellars in Monroe, Wisconsin to create a firm texture and complex flavors of caramel, fruit and mushroom. This isn't the first big win for this cheese. It also held the title of World Champion from the 2016 World Cheese Championship, among more than a dozen awards for this celebrated cheese.
Emmi Le Gruyère® AOP is hand-selected from just 40 dairies with careful consideration by Emmi among more than 160 creameries in small villages throughout Switzerland, ensuring only the best Le Gruyère cheeses are sold under the Emmi brand. Aged a minimum of 5 months, Le Gruyère AOP slowly matures in the cave-like atmosphere of the Emmi cellars as each wheel is delicately turned, lightly brined and brushed. This brings out the inimitable flavor featuring notes of candied walnuts, dried fruit and spice.
Emmi Roth also received awards for several other cheeses, including:
Gold
Roth® Pavino
Emmi Le Gruyère AOP
Emmi Kaltbach™ Le Gruyère® AOP
Silver
Emmi Le Gruyère® AOP
Emmi Kaltbach™ Aged Gouda
Emmi Tête de Moine
Emmi Kaltbach™ Le Crémeux
Bronze
Emmi Emmentaler® AOP
Emmi Kaltbach™ Emmentaler® AOP
"In addition to winning two Super Gold awards, we walked away with awards for our entire line of Kaltbach™ cave-aged cheeses, including our new Kaltbach Cave-Aged Gouda. This is really something we're proud of," said Tim Omer, president and managing director at Emmi Roth. "We are always proud of the work our cheesemakers and crew are doing, and getting recognized on an international stage makes us even more honored to represent these great cheeses."
Submissions for the World Cheese Awards are judged on a single day by carefully composed teams of technical experts, buyers, retailers and food authors. The jurors work in teams of three and identify all the cheeses, which then get a gold, silver or bronze award.
Judges look at the rind and the body of the cheese, its color, texture, consistency and above all, its taste. Each of the teams then nominates an exceptional cheese as Super Gold from their table.
Out of 3,804 entries, only 84 cheeses are awarded a Super Gold title. A full list of this year's winners is available online.
About Emmi Roth
Emmi Roth, a subsidiary of Switzerland-based Emmi Group, is a leading producer of specialty cheeses. Our expansive portfolio displays a unique marriage of cheeses from two different worlds with very similar traditions and local values – from handcrafted award-winning Roth® cheeses from Wisconsin to Emmi's full range of traditional varieties imported from Switzerland. Learn more at emmiroth.com.