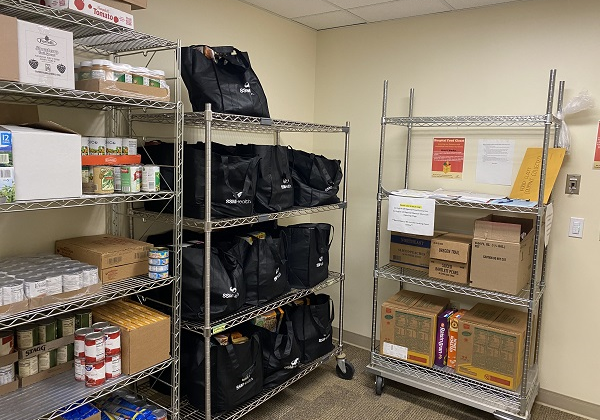 To aid in the shortening of the wait time for patients needing access to food, SSM Health Monroe Hospital and SSM Health Monroe Clinic Medical Group created an onsite food closet.
When patients in primary care, pediatrics or behavioral health identify as not having food during screening questions during appointments, they are given a slip to redeem for an immediate need food bag.
Included in the immediate need food bags is non-perishable food items provided through a partnership with Green Cares Food Pantry in Monticello, Wisconsin. The bags also have printed resources in English and Spanish that include local food pantry information, other important community resources phone number list and hiring information for entry-level positions at SSM Health.
"The food closet gives us an opportunity to give our patients that screen food insecure assistance immediately," shared Tammie Jamiska, Community Health Specialist at SSM Health Monroe Hospital. "The bags are to help them get through a couple days until they can establish with a local food pantry."
Using a multi-phase approach, the food pantry debuted in Monroe, Albany, New Glarus, Brodhead and Blanchardville in August. Plans are in progress to also offer this program in our Illinois locations as well as additional clinical departments in Monroe.
Since launching, more than 30 patients have received immediate need food bags.